Panel Discussion Entitled: Egypt's Today: Opportunities and How to Navigate Economic Challenges
be the first to attend This Event
Online bookings are not available for this event.
On February 21, BEBA organized a panel discussion about how to overcome economic challenges confronting investors, as well as discussion on possible solutions, opportunities, and recommendations.
The panel discussion focused on economic obstacles and alternatives to accelerate the process of making immediate changes to attract and ease the process of FDI (foreign direct investments). The pre-panel discussion addressed the importance of specialized FDI targeting as well as the types of industries and businesses to enhance outcomes. Furthermore, it revealed that in mid-April of 2023 a new service will assist investors with fully digitally incorporating firms as a first step in attempting to answer the investors' key difficulties.
The key difficulties expressed by attendees as a major difficulty was firstly, the massive delay created by the security clearance check, which is viewed as a red signal from the investor's standpoint, and a short deadline for the procedure should be implemented. Secondly, there are issues with provisions and the goal of a new legislation modification that protects the investor in terms of management control. Thirdly, the dividend delay for corporations who invest here for a year or more. Fourthly, there was a desire to provide a tax-free period of 5-10 years to any investment seeking to earn a quick profit. 
Finally,  another desire for an investment map on bank websites, as well as additional instructional workshops for the business community. And due to previous successful instances, a call for reviewing the 1997 investment law in and the hope of eliminating double taxation of dividends was mentioned.
In response to these concerns, Mr. Hossam Heiba stated that the acceptance process takes a week, but the delay comes in the process implementation because investigation takes time; however, there is a current strategy with other parties to put a realistic workflow in place. Furthermore, it indicated the GRAFY committee's creation to implement security clearance in a certain time frame, which was supported by numerous attendees. Mr. Heiba further stated that the double taxation is already being discussed with the parliament and would be eliminated shortly. Unfortunately, the tax incentive proposal is inefficient because certain research demonstrate that it does not benefit. He concludes his statement by believing in working parallel to tax incentives that we currently have but have not applied, hoping for credibility, and noting golden licenses as a very useful instrument for investors.
The following points were the main concerns raised during the panel discussion:
Security clearance checks cause delays in investments, give a negative message to investors, and should be addressed.
Taxation is a major concern for investors, particularly the double taxation of dividends, which is preventing group structures from coming to Egypt.
Incentives under the law should be completely utilized to demonstrate credibility and confidence.
Investors believe that they should be legally protected in terms of manager concerns and controlling.
Even minor inefficiencies in the system can harm the entire system.
Economic fluctuations (Exchange rate) (currency issue).
Changes in investment rules create uncertainty, which drives away investors.
Panel discussion outcome and recommendations:
The necessity to ensure that we attract FDI in the sectors that we require, as well as focusing FDI on a specific aim to be more efficient.
Authorities should ease and fasten the process of security clearance check.
Economic stability is achieved by stopping the frequent changes in investment regulation and taxation; the more predictability, the more investors will be willing to make investments.
What important is gaining credibility and serenity via the implementation of the law to gain trust and stabilize the tax regime to be predictable, as well as offering opportunities to local and foreign businesses to encourage them to invest.
Begin with quick wins, such as temporary tax exemptions for business investors, which may aid in resolving the currency issue.
Pre-IPO fund that will attract and assist investors by establishing a body that can become a trusted partner to investors, as well as GRAFY new committee forum that will implement security clearance in a certain time frame.
Communicate strategy to increase credibility and transparency.
To conclude, investors seek clear opportunities, clear application of the law, clear partner who knows the company and helps through the legal system, fair competition, and overall shareholder revenue; if we allow all of that, we will be able to attract FDI.
Hossam Heiba
President, GAFI
Karim Helal
Director Egypt, Collier International College
Ahmed Raouf
General Manager Sanofi Egypt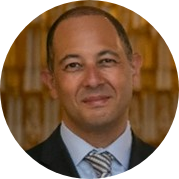 Abdalla ElEbiary
Chief Investment officer, Sovereign Fund of Egypt
Magez EzzEldin
Partner & Deals leader, PWC Middle East
Wael Ziada
Managing Partner, Zilla Capital
be the first to attend this event