With its rich mining history, Egypt is home to mineral resources such as gold, copper, silver, zinc, platinum, and a number of other precious and basic metals including phosphate, iron ore, kaolin and coal, found in abundance in the Eastern Desert, the Western Sahara Desert and the Alaqa Valley. In addition to its stellar gold deposits on offer, Egypt also possesses copper and uranium deposits, besides housing construction materials including granite, marble, white sand and limestone. With the potential to rank among the top mining locations in the world behind its estimated 6.7 million ounces of gold, 48 million tonnes of tantalite (the fourth greatest deposits in the world), and 50 million tonnes of coal, the country is targeting to increase the mining sector's contribution to GDP tenfold by 2026 in order to diversify its national economy and unlock its vast mineral resource wealth, all via turning the sector into a lucrative investment spot for investors.
The Minister of Petroleum and Mineral Resources Tarek El Molla remarked in a statement on January 2022 that the Ministry aims to raise the contribution of the mining sector to the GDP to reach 5% over the next two decades from less than 0.5% recorded in early 2021, stating in March 2021 that the plans target raising the mining sector's contribution to GDP to more than USD 20 bn by 2040 and to increase exports from USD 1.6 bn in 2020 to USD 10 bn by 2040.
Currently, the mining quarrying sector's gross value added at factor cost at current prices (including petroleum, gas and other extractions) amounted to EGP 565.561 bn in FY 2021/22, compared to EGP 411.261 bn in FY 2021/20, marking a 37.5% growth, according to the latest published data by Egypt's Ministry of Planning. Despite the sector's low contribution to GDP, it is set to be one of the fastest-growing and most strategic sectors of the decade in light of the public policy prioritization given to it, with over 40 initiatives in place to attract greater investments under the country's overarching Vision 2030.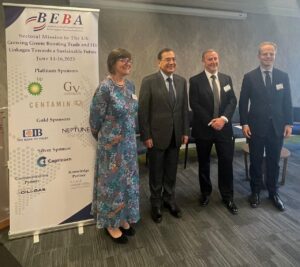 Egypt's Government Efforts and Ongoing Challenges
In spite of the country's generous mineral wealth, Egypt was previously lacking an internationally competitive mining policy that provided the right balance of economic returns to both the government and the investor. In an effort to tackle said issue and attract FDI, the government issued a new Mineral Resources Law No. 198 of 2014 in December 2014 and its Executive Regulations No. 108 of 2020 in January 2020, which aimed to transition the sector away from a framework based on petroleum to a framework better suited to the investment requirements and production cycle of mining with regards to tax, rents and royalties. The government also enacted policies including offering tax incentives to mining companies and simplifying the process of obtaining mining licenses in order to attract investments, in addition to working on improving the country's infrastructure by the construction of new roads and the expansion of power and water supply systems.
Nevertheless, in order to support activity, the sector still requires building local mining expertise and the government investing in proper direct and indirect infrastructure including laboratories, processing facilities and mine-to-port infrastructure, according to a report by McKinsey published in October 2020. To this end, Egypt has already embarked on a multi-pronged strategy to catalyze the industry's transformation, with President Abdelfattah El Sisi directing the government in early 2021 to create a "gold city" which is set to house a gold refining factory and a school to train jewelers and craftspeople.
Besides the deficit in mining-related infrastructure which remains a barrier to growth in less developed markets such as Egypt's, other challenges exist including limited investment in mining R&D which thereby limits the productivity growth of the sector. In addition, much like the case in neighboring countries across the Middle East, the elevated inflation rate in Egypt is expected to increase costs for mining companies which might act as a disincentive to increase their investments within the country.
Furthermore, it was marked by multiple investors that another hurdle exists in the form of limited information, where there exists a significant need for the provision of the necessary information on the mining sector electronically and free of charge to the investor, ultimately with the aim of saving the expenses of additional studies and research. On that end, however, Minister Tarek El Molla highlighted last month that the government is working on establishing a mining portal ─ similar to the Egyptian Upstream Gateway (EUG) portal in the field of oil and gas ─ that contains all the geological data and maps required by investors to facilitate the presentation of investment opportunities, adding that the portal's technical evaluation has already been completed and is set to be launched during the coming period.
Mining Opportunities: International Bids and Forums
Operating in similar circumstances, British businesses can offer innovative solutions to Egypt's operational and environmental mining-centric problems. With the Egyptian mining sector's needs for mineral processing technology, equipment and proven expertise to develop mineral-based manufacturing, there comes an opportunity for international companies including equipment manufacturers and suppliers, and companies that provide engineering consulting, drilling and chemical testing services. Besides that, the Egyptian mining sector also requires training and skills development in order to fill the supply chain gaps across the mining lifecycle. Companies that specialize in gold exploration, drilling technology, mineral processing technology and equipment, engineering, processing and construction turnkey, as well as consultancies are also needed to help build the substantial infrastructure required for developing Egypt's mining industry, hence there are plenty of investment opportunities for foreign investors.
Amongst the presented opportunities, the Egyptian Mineral Resources Authority (EMRA) announced in April 2023 a global bid for exploration and exploitation of gold and associated minerals for the first time in 2023 in five Eastern Desert regions through Shalateen Mineral Wealth Company (SMRC). The bidding is open from 10th of April until 10th of August, and includes blocs in 5 areas in the Egyptian Eastern Desert, namely Fatiri, Umm Ud & Hangaliya, Atud, Barramiya and Hamata.
Another opportunity is presented with the recent directives of President Abdelfattah El Sisi in May 2023 on the country's commitment to further enhancing the ongoing effort to develop and utilize Egypt's mineral resources, particularly tantalum ore, which has reserves in Egypt and is considered one of the rare and precious elements used in various advanced industries such as aircraft components, electronic circuits, microelectronics, mobile phones, and laptops, as well as the production of some medical components such as prosthetic implants and artificial joints.
Given the country's ambitious plans to develop the sector and attract USD 1 billion in mining investment by 2030, the country is holding the second edition of the 'Egypt Mining Forum' from 18 – 19 July 2023 in The Nile Ritz-Carlton, Cairo. Hosted by the Ministry of Petroleum and Mineral Resources, the Forum aims to bring together key regional stakeholders, international mining companies, and investors who are looking to do business in Egypt and North Africa. The Forum is also set to shed light on Egypt's financing roadmap and how foreign investment and partnerships will be key drivers to unlocking value within the mining sector.
Hence, investing in Egypt's mining sector can bring significant returns for investors behind the country's substantial mineral reserves and the government's support to the sector's development, besides its strategic location as it offers easy access to markets in the Middle East, Africa, and Europe.