Dinner in Honour of H.E. Eng. Tarek El Molla, Minister of Petroleum & Mineral Resources
be the first to attend This Event
Online bookings are not available for this event.
BEBA organised an early dinner in honour of H.E. Eng. Tarek El Molla, Minister of Petroleum and Mineral Resources, on March 13 at the Cairo Marriott Zamalek, where he discussed the importance of decarbonization and the need for transition.
Conference Summary
"As time evolves and technology advances, discussions for accelerating new energy are rising"-said by HE Eng. Tarek El-Molla, Minister of Petroleum and Mineral Resources; he also stated that the field of decarbonization and exploiting carbon has become one of the areas that attract the world's attention, which was emphasized during the COP27 Climate Summit in Sharm El-Sheikh and the Egyptian International Petroleum Conference last February 2023. HE mentioned Egypt's recent participation at the "CERAWeek" conference in the United States of America, as well as crucial discussions with international oil and energy leaders, as evidence of Egypt's place on the global energy map. HE also claimed that decarbonization is an appealing business opportunity that has already attracted many firms and will continue to develop.
Highlights of H.E.'s presentation:
v Preparations are currently underway to announce the national hydrogen strategy through a committee chaired by Dr. Mostafa Madbouly, Prime Minister, and that a memorandum of intent has been signed with the German side in this field, and that procedures are being prepared to attract investors and promote hydrogen production and renewable energy production. Strive to offer advanced technology, funding, and cadre training in these domains.
v The role and initiatives of the Eastern Mediterranean Gas Forum, which Egypt is chairing this year, in accelerating the execution of emissions reduction projects, in addition to the methane roadmap presented during the Sharm El-Sheikh Climate Summit.
v Gas is critical to achieving a balanced and realistic energy transition.
v Enhancing energy efficiency is an essential topic in all sectors, not only the oil and gas industry, citing the sector's achievement in saving $130 million each year through energy efficiency operations.
v The adoption of digital transformation areas in all petroleum activities, as well as the ministry's efforts to extend projects to transport gas to households, convert automobiles to run on natural gas, and spread service stations to help residents.
v International bids were launched through the Egypt Digital Portal to search for oil and gas, the most recent of which is the bidding for obsolete fields to increase production rates in non-traditional ways, indicating that there are successful partnerships with foreign partners, and we look forward to achieving more success stories in the coming period.
v Egypt's reforming program of the petroleum sector that was developed in 2016 has successfully helped Egypt's to overcome the international challenges that was done by global instability starting from covid-19 to Ukraine- Russia conflict.
v Key Pillars of Decarbonization Activities (promote decarbonization activities, monetize decarbonization opportunities, unified sector-wide focus on decarbonization).
Egypt's current situation and strategic goals:
v The consumption of petroleum products and natural gas in 2022/2023 amounted to 50 million tonnes of gas and 32 million tonnes of petroleum products, adding that Egypt has succeeded in transforming from an importing country to a gas-exporting country, in addition to its important role as a regional center for gas trade and circulation by bringing gas discovered.
v EGAS green energy department has been formed, that the World Bank's "zero emissions of flare gases" effort has been joined by 2030, and that there are strong chances to execute carbon capture, storage, and exploitation projects.
v Egyptian Petroleum Sector Energy Efficiency Strategy (2022-2035).
v The integrated sustainable energy strategy 2035 is currently being prepared in collaboration with the Ministry of Electricity and includes projects to produce various types of hydrogen, and it will be implemented using advanced technologies to achieve a balanced energy mix, and that the presence of natural gas as a basic fossil fuel component is required, with no other fossil fuels included in the pie.
v In the following weeks, Egypt will outline its national low-carbon energy plan to react to technological advances and global geopolitical realities. Energy subsidy reform, energy efficiency, renewable energy and hydrogen are additional key pillars of the plan.
v Low Carbon Hydrogen Strategic Framework, decarbonization, natural gas, and hydrogen will be critical components of the transition strategy to achieve 42% renewable energy by 2030.
v Egypt brought forward its goal of sourcing 42 per cent of its energy from renewable sources by 2035 to 2030. Its current renewable energy component is about 20 per cent.
v Development of an incentive package for businesses seeking to invest in green hydrogen production projects.
v Egypt's updated NDC include target for reducing GHG emissions in oil & gas sector by 65% in 2030 mainly through recovery of associated gas.
v Energy efficiency projects of $1.45 billion are being implemented.
H.E. Eng. Tarek El Molla
Minister of Petroleum and Mineral Resources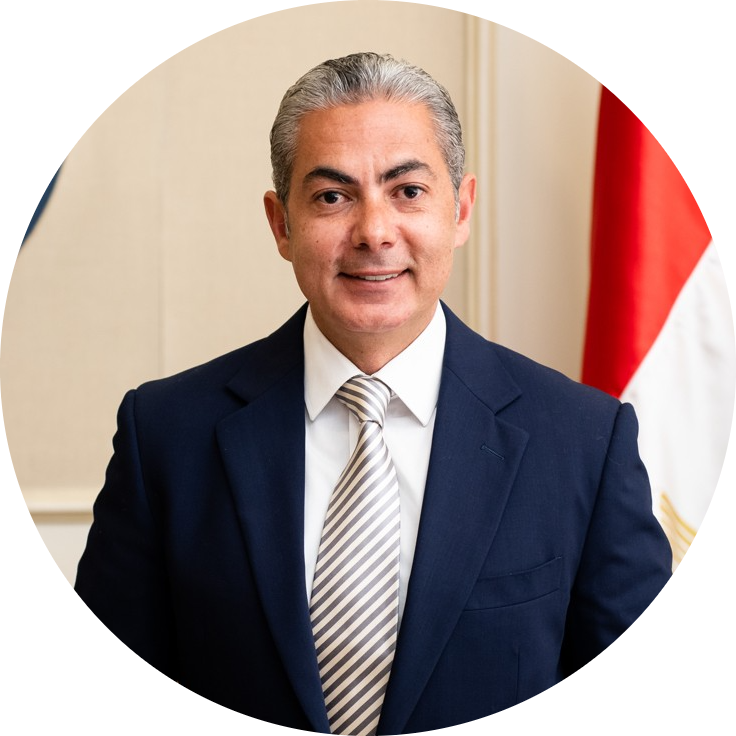 Mohamed Fouad
Managing Director & Partner, Egypt Oil & Gas
be the first to attend this event